Ideas on How-To Attach
We know that all bikes and cyclists are different. How you decide to display your DeafBikeSigns will depend on your taste or sense of fashion. Some riders will prefer something temporary for specific riding events while other riders might want something more permanent for daily use. How you display your signs will depend on your bike and attached accessories. Be creative!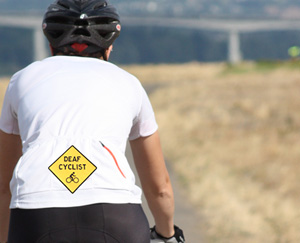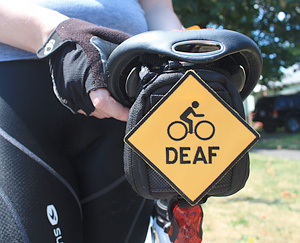 HOW TO ATTACH YOUR PATCHES
Iron: Convenient, with greater permanence than stick on


Iron-On Adhesive is already included on all of our patches

Sew: Hand or machine stitch for permanence
Velcro: Great for switching patches on the same accessory
Button/Wire Loops: Add button holes and you can tie or button it to your accessory
Magnetic Backing: Attach to metallic parts of your bike or accessory
Pin: Good for temporary use; suggested on clothing
WHERE TO PLACE YOUR PATCHES, STICKERS OR/AND ALUMINUM PLATES
For best visibility, locate on the back.
Back of your helmet
Back of your saddle (on pouch bag or underneath attached to the frame)
Back of fenders or Bike Rack
Back of your shirt/jersey

For fun, you also can put stickers on water bottles.
WATERPROOF FABRIC PROTECTION
Consider waterproofing your patches. Spraying a waterproofing solution on your patches can improve their durability and lifetime. Highly recommended if you ride frequently in wet conditions or live in places such as Seattle, WA or Portland, OR.